A pioneer and leader in sports medicine and rehabilitation. John is an inventor of numerous product concepts, educator and therapist for some of the world's best professional athletes. He was inducted into the Massage Therapy Hall of Fame in 2022.
John founded Massage Therapy Center of Winnetka in 1989. The clinic is rated the best on the North Shore of Chicago. Located on Green Bay Road in Winnetka, Illinois, the clinic employs 5 certified and licensed massage therapists. In 1999, John created Acuforce International, Inc. a company that markets his patented soft-tissue therapy tools. A division of that company called Chocolate Milk Productions produced "Infant Massage Lessons for Dads". An instructional DVD that teaches fathers how to bond with their babies while helping the infants to sleep better and develop more rapidly. The program has won 2 video excellence awards, 2004 Aurora Gold Award and the 2005 Telly Award.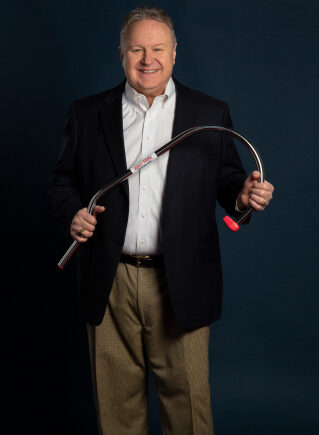 John has served as an adjunct clinical instructor at both the University of Tennessee at Chattanooga and Trinity University in Deerfield, Illinois. He was the AMTA Illinois Chapter Distinguished Service Award winner in 2014 and Employer of the Year in 2009. John is also listed in the Top 100 Health Experts on Twitter. In addition, he served as the massage therapist for the 2005 World Series Champion Chicago White Sox baseball team from 2002 – 2005. In 2012, he began expert witness work within soft-tissue treatment.John also launched a product in 2020 called the Freebounder Fitness and Rehab Machine. The machine is patented and is easily the most comprehensive machine ever created for the product space. He also recently introduced his seamless face cradle cover to the marketplace with great acceptance. John expects to launch his next product this winter….stay tuned!
Massage Therapy Center of Winnetka

In 1989 John opened the Massage Therapy Center of Winnetka, a highly regarded clinic on the affluent north shore of Chicago, Illinois. The clinic has been rated the best on the North Shore by both the Chicago Sun Times and the new book Necessities: Chicago. The Massage Therapy Center employs 9 AMTA therapists and John served as the massage therapist for the 2005 World Series Champion Chicago White Sox baseball team. He is frequently interviewed on television and radio, discussing the benefits of massage for the general public and professional athletes. Photo: Meadowlark Lemon receiving a treatment in 1983
Check what People say About us.

So what is the real secret behind the second-half success of Sox right-hander Jose Contreras? More confidence? Better control? At least one major factor for the improved performance of Saturday night's Game 1 World Series starter is a more relaxed, flexible body resulting from extensive treatment from team massage therapist John Louis. Ah, there's the rub! "I thank God every day because [Louis] works on me every five days and it makes me feel loose," Contreras said through an interpreter. "In Cuba I didn't have that. I haven't gotten an injury. [Thank] God I gave that man a chance to massage me." Louis, who has been administering neuromuscular massage therapy on Contreras, also delves into acupuncture, deep-tissue massage and other techniques. The White Sox are one of just three major-league teams (the Dodgers and Yankees are the others) that employ a full-time massage therapist. Contreras established career highs this season in victories (15), starts (32), innings pitched (2042/3) and strikeouts (154). He was 11-2 with a 2.96 earned-run average in his 15 second-half starts, striking out 82 and walking 27. "I want to be careful not to take too much credit," Louis said. "But just keeping his tissue soft has been an important issue. I certainly believe it has played a role in his success." Louis, who has a clinic in Winnetka, also has worked extensively with Frank Thomas and Scott Podsednik, as well as occasionally with pitchers Orlando "El Duque" Hernandez, Freddy Garcia and Jon Garland. "When you play in this game, there is a lot of soreness and pain," said Thomas, out with a broken left ankle. "John Louis is a good guy and he has done a good job with us. It has been very important for me as far as relaxation. I had never thought about massage until the past couple of years. It adds a lot of flexibility and relaxation." Louis, 43, who grew up a Cubs fan in Palatine, said, "Now I have had to swear my allegiance to the White Sox."
Here's the rub on 'Massage Star' There will be a local sports presence at tonight's American Music Awards. Not an athlete, but rather an item in the celebrity gift bags. "The Massage Star: is a device developed by John Louis, the White Sox' massage therapist. "The Massage Star helps emulate exactly what massage therapists do with their hands," said Louis, founder and CEO of Acuforce. He also operates the Massage Therapy Center in Winnetka. "The [11-ounce] weight allows individuals to use the force needed to perform effective massages. Another unique feature is the coating we use, which is soft and durable, making it difficult to differentiate between the users' hands and the tool." "It's a terrific devise," Sox trainer Herm Schneider said. The Massage Star is my favorite therapy product. It provides the weight necessary to perform techniques I use most, muscle stripping and trigger-point therapy, by targeting the exact points where treatment is necessary." "I use it after workouts to target problem areas of my body when my muscles get tight," Sox two-time MVP Frank Thomas said. "I don't leave home without it!" No word on how the device is for massaging egos.
John Louis, massage therapist for the White Sox, created a device for relaxation known as the Massage Star. It will be featured in the celebrity gift bag at Tuesday's "American Music Awards." His massage therapy was cited by Sox pitcher Jose Contreras as a major contributing factor behind his magnificent second-half performances during the World Series championship season. Louis' company is based in Northfield, and the Massage Star is shown on the web site.
Pictured Left to Right Rascal Flatts Band Members - Gary LeVox, Jay DeMarcus & Joe Don Rooney holding their Massage Stars at the American Music Awards November 22, 2005
Pictured above American Idol Judge, Randy Jackson, holding his brand new Massage Star.